Because i'm wide awake i thought that i'd add a little something!!
I noticed alot of ppl got labrador's so i thought i'd just make fun of adding picture's of our labrador's sleeping... Coz they look so cute
Here's my Tegan Sleepin!! not very good as it's off my fone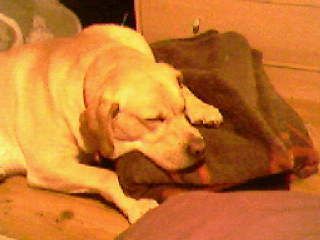 __________________
Labrador's & Cocker's Are The Best!!!
Buddy / Flossika / Frankie / Tegan
"If dogs could talk, perhaps we would find it as hard to get along with them as we do with people."