This is Rosie. We found Rosie as a stray, or well, she found us. I had been sick of listening to Charlie bark in his dumb kennel, so I went to bring him in, and when I went to the back she was on our porch. She was very scared because Charlie had tried to attack her. She just layed there shaking. I got Charlie in the kennel and ran back so she wouldn't leave. I called for my mom, and we tried to coax her in with treats and water, but she wouldn't budge. We didn't know if we should try to move her because we didn't know if she would bite, and we didn't know if she had shots. Well, after a while we finally did carry her into the porch, and she went and his with my mom.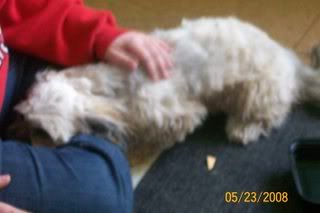 After we just let her sit for a while there, we got up, and tried to coax her into the house, but she again just layed. So, my mom went and watched T.V. and I went on the computer, and after about 1/2 minutes she came crawling in. First she just sniffed, and explored, then she would go to my mom or myself. Then after a while she got used to us. Quite quickly actually. I took some pictures, and sent them to the shelter.
Well, the next day we were called, and they knew the owner, and then the story really begins.
See, Rosie's owner was at Miller Dwan (It is a place for people going to rehab for drugs, and things, then for people who are, well, crazy.) We were told she would be there till the next Tuesday, which was about 7 days away. So, we planned to let her stay with us instead of going to sit in a kennel with all those other dogs for a week.
So, the shelter gave us the owner's room number, and my mom called and got the story. See, the owner's son was a drug addict and alchohalic, and apparently Rosie had somehow gotten out. She had to travel though all the train tracks which are about a mile in width to get across, and we were glad that she was pkay after hearing that. Well, see Rosie is an inside only dog. She had never been outside in her life or wore a collar/leash, so we at first hadf problem with her going outside to go potty because she wouldn't walk outside, but she would eventually go potty. (Which about 2 days before she left we actually had her outside walking and such) We were like wow, how does she go potty, but we decided not to ask.
Well, along the lines of us having her she was doing great! She liked my mom and I alot, was playing, even did some Agility. Then like I said above she even would walk outside.
Here are some pictures of her doing all of those things. xD (And random shots)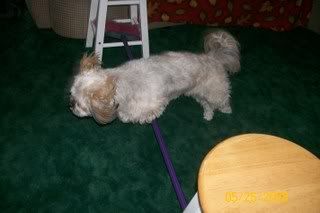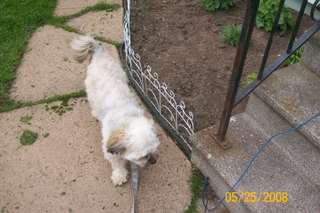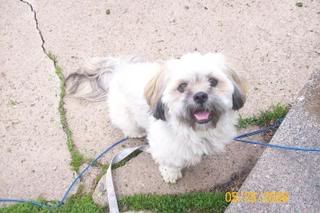 Man, I miss her. She was a sweet little girl..